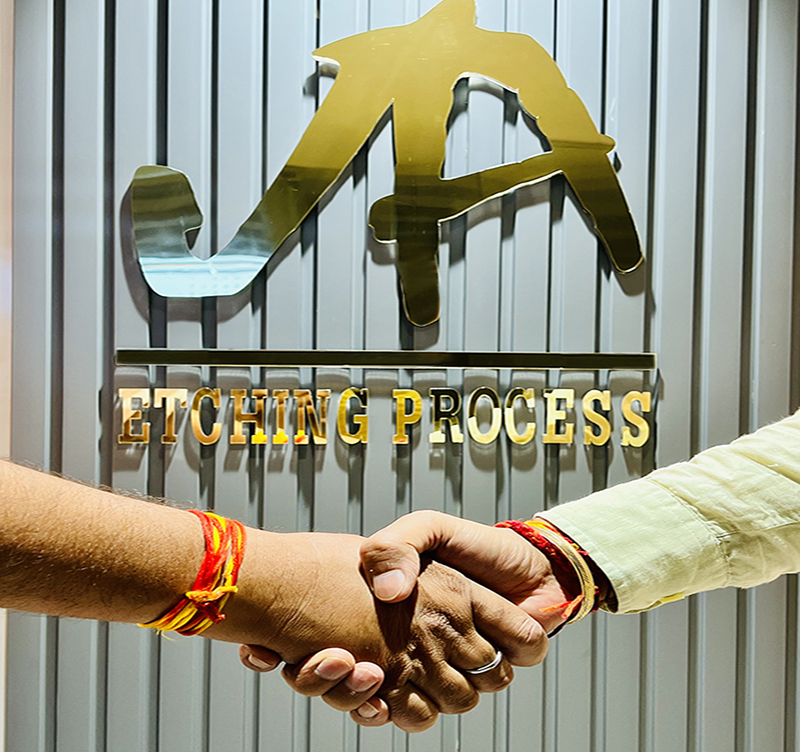 At Jay Ambay Etching Processes, our team of sand and shot blasting processing has industry experience and knowledge. We work closely with our clients to identify their requirements and design a plan that caters to every little detail. We adhere to international quality standards so you can have the best product out there. Using premium grade technology and machines, we render services of exceptional quality.
We work with industries ranging from aerospace, ship building, and steel and strongly believe that processes like these can promote technological advancement without compromising the integrity of a green earth.
The Process
Sand and shot blasting are technical services that require the use of machinery and expertise. For this reason, it is important to pick an organization that knows what it is doing.
Shot blasting is used to clean, polish, and strengthen metals. It is one type of abrasive blasting, in which a high-pressure stream of abrasive material is propelled towards a surface. Shot blasting uses metals, whereas sand blasting, as the name suggests, blasts sand to achieve the same goal.
Abrasive blasting can be used to roughen a smooth surface, to smoothen a rough surface, to shape and polish a surface, or to clean it by removing surface contaminants. It can either be wet or dry, but shot blasting and sand blasting are both types of dry abrasive blasting.
Sand blasting, specifically, can include bead blasting and soda blasting. You could either opt for a water-driven process or an air-driven process. Water-driven process is used to reduce surface deterioration and can be used on brick and concrete surfaces. Air-driven processes are better equipped to deal with metal surfaces since it would not cause moisture build up or water logging.
The following materials can be sandblasted:
Glass
Stone
Wood
Silver
Aluminum
Metals
Shot blasting is an equally useful alternative. It can remove corrosion, preparing the surface for further processing like painting. It can also be used to highlight any surface defects.
It typically uses small steel pellets, but other options could include chilled iron grits and steel grits, which work equally well, but the right choice needs to be made depending on the material and type of surface.
Technical Information :
Jai Ambay offers their renowned clients an excellent quality Sand Blasting Service. These services are performed by our experienced experts who have rich experience in this domain. Our experts go through the requirements of our precious clients and accordingly make plans as per their specifications. Furthermore, our offered services are executed in synchronization with the international quality standards to avoid any flaws. We use modern technology and premium grade machines and tools for rendering these services.
Shot Blasting is a process which is used to clean, strengthen and polish metals. It is one of the processes of "Abrasive blasting". Also most of the abrasive blasting is shot blasting (with metal shots) and sand blasting (with sand) only. This blasting operation refers to the operation of forcibly propelling a high-pressure stream of abrasive material against a surface in order to:
Smooth a rough surface
Roughen a smooth surface
Shape a surface
Remove surface contaminants
Shot Blasting is a method used to clean or prepare surfaces prior to use. Mechanical force is used to propel blast media at the surface to be cleaned to remove contaminants. Shot Blasting is referred as one of the process of abrasive blasting. Types of abrasive blasting include:
Bead
Wheel
Wet
Automated
Hydro
Micro
Dry ice
Bristle
Abrasive blasting systems typically include three essential components, as follows:
Abrasive container (blasting pot)
Propelling device
Blasting nozzle
The advantage of the procedure is that it keeps the surface intact, while everything else is removed. There are two main types of blasting: dry and wet. The type of abrasive used in a particular application is usually specific to the blasting method.
Frequently Asked Questions?